Hij is rood met goud, past uitstekend bij de feestdagen zijn naam is Boucheron Quatre en Rouge. Dit geurtje gaan we vandaag reviewen. Lezen jullie mee??
Flacon en verpakking:
Wauw deze geur zit in een prachtige flacon en verpakking.De verpakking is echt super mooi lekker rood en gouden flacon. De flacon is voor een overgrote deel rood de dop is goud en de opdruk met de naam van het geurtje is goud. Wat een prachtig verpakking. Het doet me denken aan kerst. Zou het gepland zijn of pure toeval? Wauw de flacon is prachtig.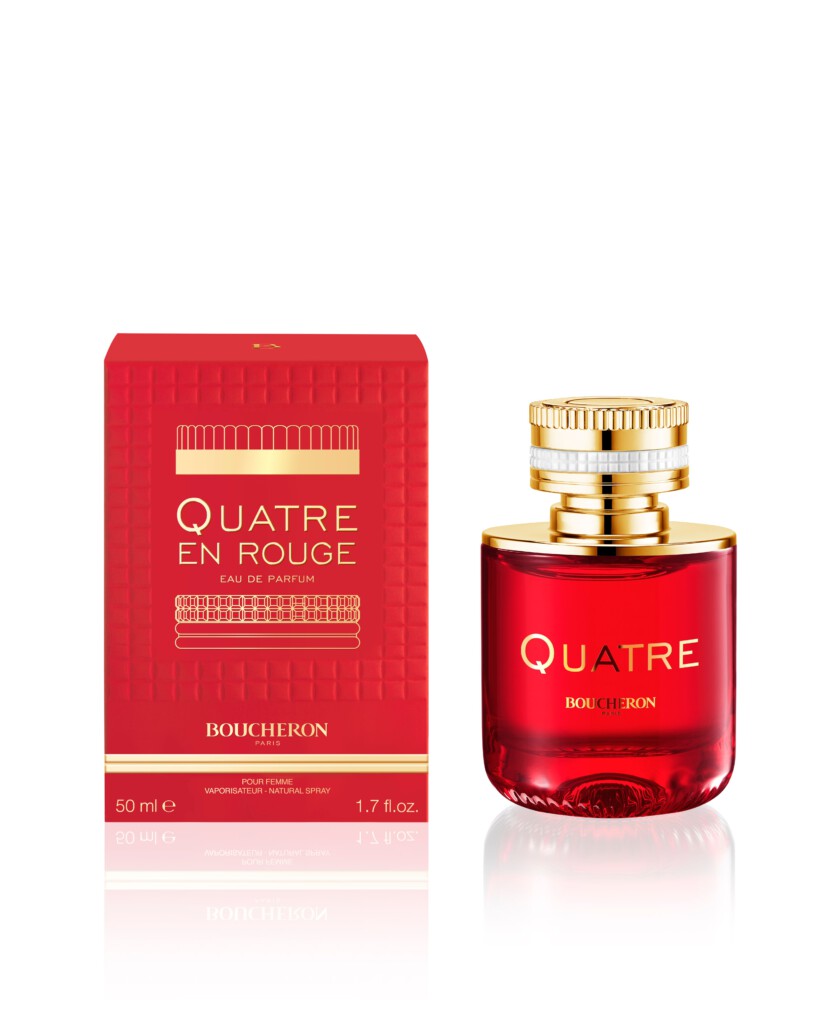 De ring:
De Boucheron geur heeft een rode ring. De geurflacon gebruikt dezelfde magnetische tint om een ​​nieuw, gedurfder, gepassioneerder en zelfs intenser geurverhaal vertellen. De smeulende opus onthult de vurige aard van deze altijd inspirerende vrouw. Een vrouw die we allemaal willen zijn.
Wie is zij?
Niemand weet het echt.
En dat is wat haar zo begeerlijk maakt
Must have item:
Heerlijke geur dringt er door mijn neus wanneer ik een spraytje Boucheron Quatre en rouge opspuit. De geur is zo intens en lekker dat ik er maar aan wil blijven ruiken. Noot van rode appel ruik ik. Topnoten bevatten de essenties van stralende bergamot, euforische madanrijn en sappige peer. Geavanceerde orris-olie versterkt de vrouwelijkheid, waardoor deze eleganter wordt, terwijl wervelingen van roos absolute passie toevoegen. Ten slotte, de bijna groene noot van zwarte bessen etsen in het hart van de compositie.De basisnoten van deze nieuwe geur zijn zorgvuldig gekozen, belichamen de ondeugende Quatre En Rouge-vrouw en combineren delicate accenten van marshmallow, intense frambozen, smeulende patchouli en strelende muskus. Wauw wat een heerlijke geur. Je wordt hier heel hebberig van. De geur is zo intens, niet zoet niet te sterk echt een midden geurtje. Een geurtje dat iedereen wel erg lekker zal vinden.
Ik moet eerlijk zeggen dat ik een geurenliefhebber ben maar helaas is niet ieder geurtje lekker. Ik heb soms een paar dagen achter elkaar diverse geurtjes geroken in de winkel, pardon ik moet eigenlijk zeggen dat ik de hele parfurmerie heb opgeroken. Alle luchtjes gehad helaas er zaten niet veel tussen die ik lekker vind. Deze geur vind ik zo heerlijk dat ik er echt helemaal verknocht aan ben geraakt. Gewoon echt een prachtgeur, zowel de verpakking, flacon als de geur en de inhoud zijn zo geweldig. Waar vind je tegenwoordig nog een geur die gewoon op en top geweldig is? Er zijn niet veel geuren die heerlijk zijn. Quatre en Rouge van Boucheron is een super lekker geur waar je verliefd op wordt.
Kersttip:
Dit is een van de beste geuren ooit geroken. Dit geurtje kun je echt niet missen. Heerlijk vergeet andere merken. Dit is echt een prachtige en heerlijk luchtje. Het bevat de perfecte ingredienten voor een verslavend en heerlijk geur. Aanbevelenswaardig voor iedereen. Zoeken jullie nog een leuke kerstcadeau vergeet dit geurtje vooral niet. Hij is het echt waard. Iedere vrouw zal hier blij van worden daar zijn we echt van overtuigd.
Verkrijgbaar bij de parfurmiereen als ICI Paris, Douglas, DA.