It's really a fun challenge to make something with styropor and sequins! I made a beautiful egg once.
This time I thought it would be nice to make a bird. This is made with 2 parts styropor and a lot of colorful flowers and circles! A cheerful bird where 2 eggs together form an animal, very nice to make! Would you like to make this? Read on soon below..
What do you need?
- Styropor egg large and small
- Styropor glue Collall
- Allslime Collall
- Cocktail stick
- Mini stitch pins 13 mm
- Sequins and floral sequins mix
- Piece of orange foam rubber
- Sticky Eagles
- Scissors
How to make it?
1. Edit the largest egg with sequins and flowers Keep space for the legs and the head
2. Cut off from the smallest styropor egg a piece
3. You glue the flat part of the small egg with styroporglue, also put a cocktail stick in it for reinforcement.
4. Edit the missing parts with sequins and determine the place to insert the legs
5.Stick the adhesive eyelets with all slime due to smooth surface
6. Prick 3 yellow feathers to the side and back of the bird
7. From a piece of foam cut out 2 times a triangle shape for the beak
8. Glue this with glue and press it well for a little while
All used materials can be found on the website of Trixx Creative -click here
Below cute bird ideas.
Click on the photo and order it in the webshop!
Affiliate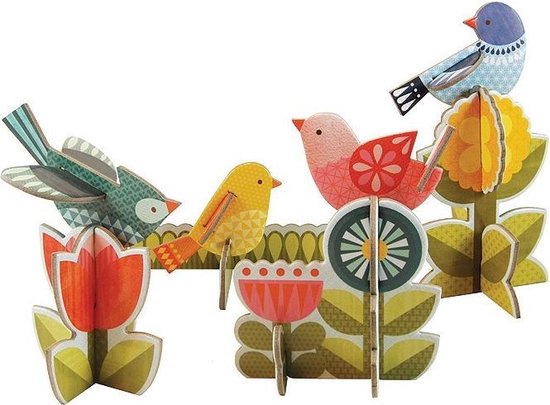 Petit Collage Pop-out 3d Birds
These expressible flowers and birds are made of thick cardboard. Each part has some pieces that need to be put together. This is very simple, all that needs to be done is to put the parts together. The birds are beautiful for the table or to decorate the room.