In de voorleesdagen staat het prachtige prentenboek van : Coco kan het! centraal. Het boek werd geschreven door Loes Riphagen. De uitgeverij is Gottmer. Hieronder staat het boek en kan je een indruk krijgen van Coco. Een verhaal over het maken van stappen, al zijn die nog zo eng. Maar door te oefenen en positieve feedback gaat het zeker lukken! Een verhaal waar kinderen zeker herkenbaarheid gaan vinden!
Gastouder Ineke van der Linde bedacht er een leuke knutsel bij die ook kan bewegen. Een leuke manier om ook het verhaal mee te illustreren!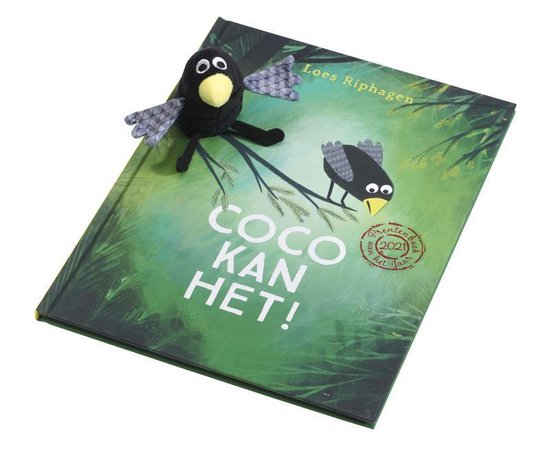 Klik op het boek om het te bekijken in de webshop!
Prentenboek van het jaar 'Coco kan het!' met een vingerpoppetje van het geliefde vogeltje Coco om mee te spelen en voor te lezen.
Laat Coco het vogeltje tot leven komen tijdens het voorlezen van het prijswinnende prentenboek 'Coco kan het!' én erna met een vingerpoppetje. Coco durft niet te vliegen. Ze zit zo hoog, en wie weet wat voor gevaren haar wachten? Maar misschien ontdekt ze met de hulp van haar moeder dat ze toch dapper genoeg is om de sprong te wagen. Loes Riphagen vergezelde haar verhaal van eigenzinnige illustraties met een goede dosis humor.
Wat heb je nodig?
- Kartonnen bekertjes
- Creall zwarte en groen verf
- Prikpen
- Karton/ papier of foam voor vleugels
- Plakband
- Fineliner
- Liniaal
Hoe maak je het?
1. Verf een kartonnen bekertje zwart (Creall acryl zwart)
2. Zet het bekertje op zijn kop.
3. Meet vanaf de onderkant (zoals het bekertje dus op zijn kop staat) 4,5 cm vanaf de rand.
4. Prik een gaatje op deze afstand. Prik hier precies recht tegenover aan de andere zijde van het bekertje een gaatje.
5. Plak 3 buigrietjes op deze manier aan elkaar vast met plakband.
6. Duw de buitenste rietjes door de gaatjes.
7. Maak vleugeltjes van karton, papier of foam. Plak de vleugeltjes op de rietjes. Wanneer de rietjes te lang zijn, knip de rietjes dan iets korter.
8. Knip uit papier of foam de oogjes en de snavel en plak deze op het zwarte bekertje. Nu is Coco klaar.
9. Neem een 2e bekertje. Zet deze gewoon rechtop. Verf deze groen. Teken er met een fineliner wat zwarte strepen overheen en Coco's nest is ook klaar.

Leuke inspiratie ideetjes rondom Coco!