Soon it will be King's Day! And unfortunately no exuberant party at the moment, but a nice colorful party crown craft! Made with a fun dyeing technique so you will really make a festive crown! Read how it was made?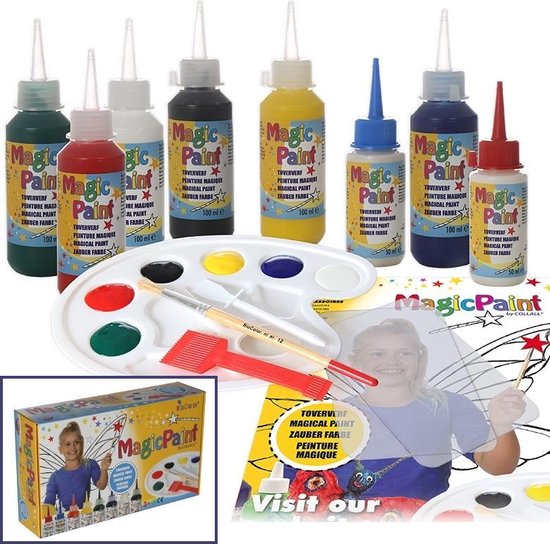 Click on the picture and order this complete package in the webshop!
Hours of painting fun for children with this magic paint, made in Groningen 14-piece set with a very special paint. You can paint, stamping, make stickers with it, it is suitable for wood, paper, glass plastic, textile & face. Particularly suitable for children from 3 to 9 years. The complete basic set with the following content. 6x bottle 100ml Biocolor (red, yellow, green, blue, black, white) 1 x bottle 50 ml Textile medium., rainbow paint spatula, 2 x technique plate, 2 x stamp balloon, and a use curve with all fun painting techniques and ideas. Gluten free!
Affiliate
What do you need?
- Template crown
- Sturdy white paper
- Collall cuddle glue
- Red-yellow-orange Magic Paint
- Paint spatula
- Scissors
- Pencil
- Blingbling gems ( Glitter boss )
- Pompons (TRIXXCreative- use code CREAKIDS and get a gift with your order- order it here )
How to make it?
1. Save the template first to a folder on your computer. From that you can then print the template
2. Cut out this crown shape and use it later as a mold
3. Edit solid white paper with 3 colors of paint. Go mix it with a spatula and pull all kinds of jobs into it
4. Let your paintwork dry well
5. Pull over the shape on the back of your process and cut it out
6. Edit with blue pompoms and glitter jewels
Lots of fun creative King's Day inspiration: crafts, games, crocheting etc.!