Diamond Painting who does not know it yet? There is a wonderful set especially for children. It's the: Totum Bling Bling Diamond painting home deco & card making set. This set was enthusiastically received in the nursery of Ineke van der Linde. Read you to their experience with this?
Ineke tells: Here our experiences with this very nice box from ToTum.
Wow... how this box looks from the outside alone, a 10-year-old girl reacts. She gets even more enthusiastic when I open the box and she sees all the blingbling and fun boxes. This is just a MUST to save when the box is empty!
See everything first. What a glitter, what a blingbling. We put the Diamonds and Glitters all in different containers, so they don't get lost or roll over the ground. With the included pen it is a piece of cake to pick up and stick the Diamonds. The girl goes to work gently and very carefully. Little by little she pulls away the cellophane and sticks one diamond to the other. When she has pasted all the diamonds she sprinkles with the help of a small spoon all the glitter in the right place.
The diamond shape she wants to hang at the bottom adorns them at her own discretion. It has become a very nice result that she can be very proud of.
A fantastically beautiful box and less difficult than thought thanks to the included pen that allows you to pick up the diamonds.
Find more Totum Diamond Painting here: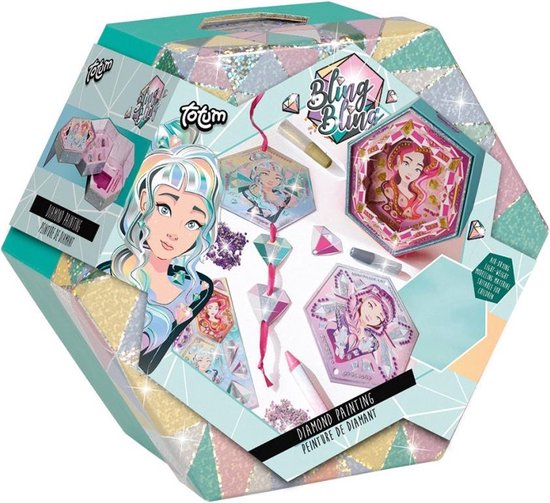 Totum Bling Bling Diamond painting home deco & card making - in luxury storage packaging incl photo frame
With this Diamond Painting set in the series of Totum Bling Bling you will find everything to decorate your own cards and stickers with colored rhinestones and glitter powder. The cards you can hang up and use it as decorating your room. You can also use the packaging as a photo frame. In this set you will find all trendy ladies from the Bling Bling series, inspired by diamonds and gemstones in different colors. Who would you like to be the most ? This craft set is packed in a beautiful gift box with 3 layers that you can unfold. Remove the wrapper and you have a super nice storage case or beauty case. Wow !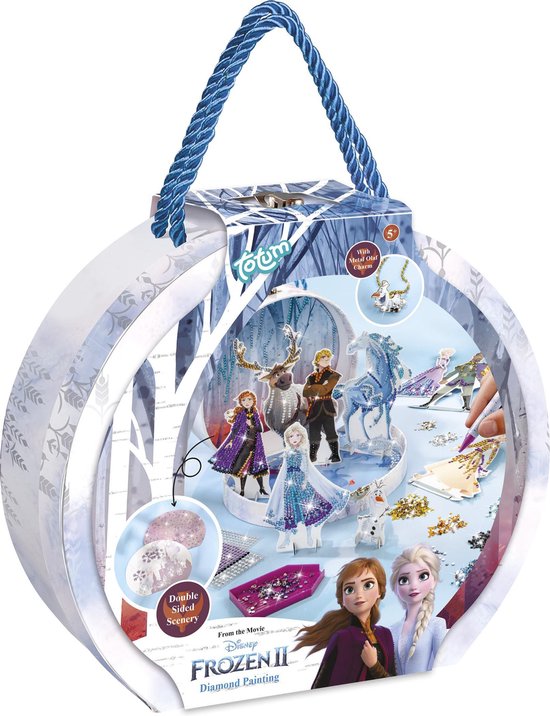 Diamond Painting Studio: Frozen 2 studio 3000 pieces
Are you creatively laid out and fond of the Frozen characters? Decorate Elsa, Anna & Olaf among others and create your own Disney Frozen Winter Wonderland with this 3000-piece Diamond Painting Studioset! In the briefcase you can easily take your things with you so that you can continue to craft at grandpa and grandma!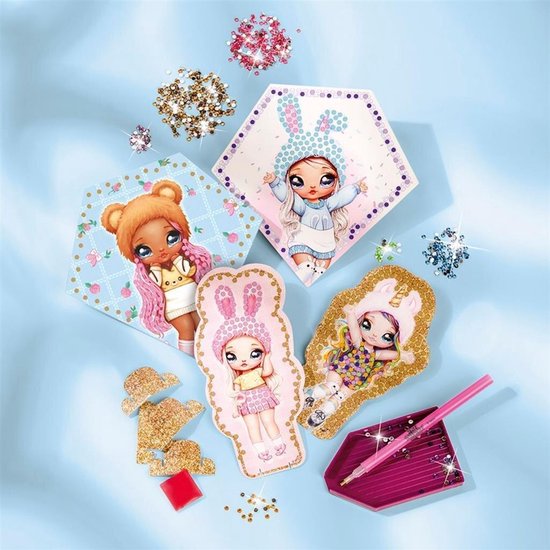 Totum After! After! After! Surprise Diamond Painting
eze After! After! After! Surprise Diamond Painting knutselset is gebaseerd op de nieuwste MGA licentie After!Na!Na! surprise, the new trend after LOL Surprise. Met deze knutselset in prachtige pastelkleuren versier je 2 AfterNaNa popjes en 2 kaarten met meer dan 690 glinsterende strass steentjes. The set is packed in an original packaging with soft fluffy handle. So cute !