Als ik iets lekker vind, dan is het de lasagne die mijn Italiaanse schoonmoeder maakt. Natuurlijk maakt zij 'm niet met courgette, maar echt op z'n Italiaans; met zelfgemaakte pasta.  Mijn variatie daarop is de lasagne met courgette. Een tikje gezonder en misschien wel net zo lekker!

Wat heb je nodig aan ingrediënten?

3 dl. (versgemaakte liefst) tomatensaus
50 gram paprika
100 gram kastanje champignons
175 gram vegetarisch gehakt
300 gram courgette  (de lasagnevellen vervang je door gegrilde courgetteplakken die je eerst kort grilt, je krijgt dan een heerlijk voedzame courgette lasagne).

125 gram ricotta kaas

Scheutje kookroom of amandelmelk
100 gram Parmezaanse kaas geraspt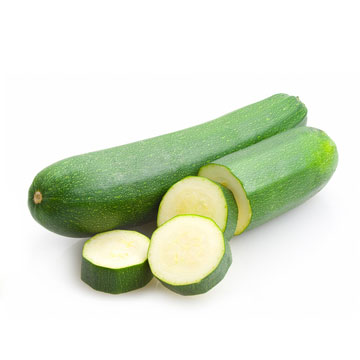 Hoe maak je het?
1. Was de courgette en snijd of schaaf in dunne plakken (dus aan de lange zijde schaven). Bak in een pan even kort aan (niet te lang anders wordt het te vochtig)

2. Snijd de champignons in plakjes en bak ook deze eerst in een koekenpan. Doe de paprikastukjes erbij en bak alles zo'n 3 minuten.
3. Verwarm de oven voor op 220 graden.
4. Voeg het gehakt toe aan de pan met champignons en paprika en verwarm 2 minuten mee.
5. Voeg de tomatensaus toe en breng op smaak met Italiaanse kruiden (tijm, oregano, bascilicum).
6. Neem een grote ovenschaal, vet deze in en leg de plakken courgette in de schaal en bouw op net zoals je dat met lasagne vellen doet. Dus courgette, deel saus, beetje kaas en dit doe je net zolang totdat alles op is.
7. Klop de ricotta los met de kookroom of amandelmelk en peper. Schep deze massa bovenop de lasagne en dek af met geraspte kaas.
8. Bak de lasagne 20 minuten in de oven totdat deze mooi lichtbruin begint te kleuren.

Heerlijk met een tomatensalade (bijvoorbeeld tomaat met mozarella).
Tip: dek je lasagne af met aluminiumfolie om te voorkomen dat de bovenkant te donker wordt.

Word lid van Yoors en verdien ook een zakcentje!