A super fun idea to make a sheep with fun dyeing techniques! Guest parent Ineke van der Linde prepare all kinds of activities for her children in the shelter. So she can experience for herself whether the idea is workable for the children. And she knows more if the materials are suitable to make something with them that she has in mind.
The basis of a craft is especially often reuse. So many materials you can use low budget . Then it is nice to have materials that you can use child-friendly and responsible. Ineke made a sheep out of cardboard. Then she created structures (with a spatula) to give the sheep a kind of fleecy fur. With the 3D liner you turn on the edges of padded, which adds extra depth to your craft work. With the paint comb, she also makes blades of grass in the sheep's tray. So you see, it's not just painting, but also trying to mimic things and experience with these tools how it can be! Really playing learning so for kids.
Read how it was made?
What do you need?
- Coloring page sheep - click here for your own choice
- White cardboard (milk boxes)
- Rectangle cardboard tray (apple bowl)
- Collall Magic Paint
- Collall Magic Liner 3D
- Spatula
- Collall Green Decoration Grind
- Collall Flash glitter
- Collall Kidslime
- Felt flowers
How to make it?
1. Choose a coloring sheet and print it out
2. Use this as a mold to sign it over to white cardboard'
3. Edit the sheep with silver and white magic paint
4. Using the spatula, process the paint and create structure
5. When dry, edit the outer lines with black 3d liner
6. Paint the head and legs with magic paint (For legs and head I have mixed magic paint gold, white and brown. )
7. For the grass tray: put glue in the tray
8. Sprinkle green decoration print with green flash glitter
9. Process the inner edges with green magic paint and apply with the paint comb grass structure inside
10. Secure the sheep with the glue gun in the grass bowl
11. Stick felt flowers on the outside of the tray
The materials used in the blog can be found here.
Click on the photo of your choice and order it in the webshop!
Affiliate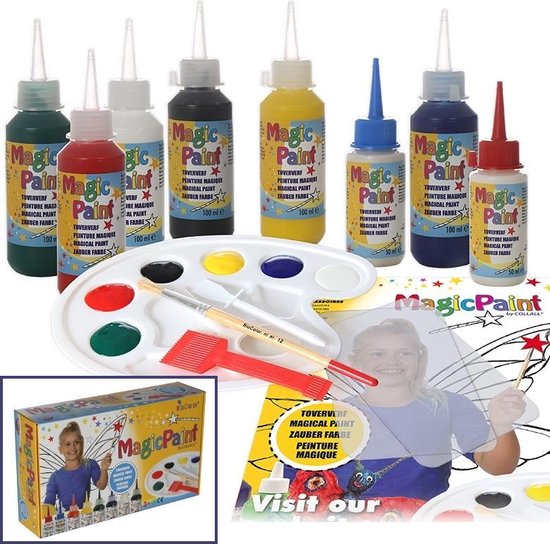 Collall Biocolor Magic Paint Set
Hours of painting fun for children with this magic paint, made in Groningen 14-piece set with a very special paint. You can paint, stamping, make stickers with it, it is suitable for wood, paper, glass plastic, textile & face. Particularly suitable for children from 3 to 9 years. The complete basic set with the following content. 6x bottle 100ml Biocolor (red, yellow, green, blue, black, white) 1 x bottle 50 ml Textile medium., rainbow paint spatula, 2 x technique plate, 2 x stamp balloon, and a use curve with all fun painting techniques and ideas. Gluten free!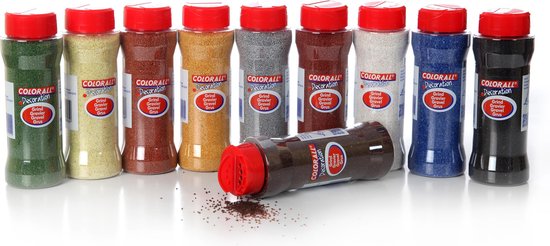 Decoration Grind 10 x 275 grams in 10 colors
Type of material:
Colored decoration gravel in various colors for decorating different surfaces and objects.
Colours:
yellow, dark yellow, orange, brown, red, blue, green, gray, black, white
Use and applications:
The object to be decorated with a layer of glue or varnish glue. Sprinkle the Decoration gravel in the still wet layer. Allow to dry well. You can put the loose grains back in the jar. Examples of objects to be decorated: cards, photo frames, wood decorations, furniture etc.

Creative sheep inspiration!
Click on the picture for these flowers. (webshop)
Affiliate