Het is dit keer een superleuke uitdaging voor Dino liefhebbers..deze doos van #Sescreative om zelf dino's te maken van gips! En dat dit ook een "feestje"was in de gastouderopvang , dat lees je hier in het verhaal geschreven door Ineke van der Linde hieronder. In samenwerking met Crea met Kids.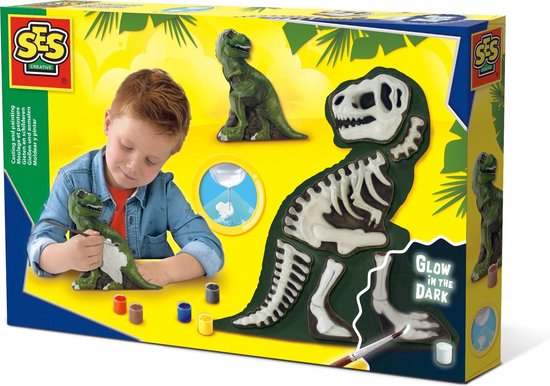 Klik op de foto om deze coole Dino doos van SES te bekijken in de webshop!
Met deze gave dino set met gips van SES Creative maak je wel een hele bijzondere T-Rex. Aan de ene kant van het beeldje is het een gedetailleerde T-Rex, terwijl je aan de andere kant zijn skelet ziet! Giet de onderdelen in de mal en beschilder ze na het drogen met de gekleurde- en speciale Glow in the Drak verf. Door het meegeleverde sponsje te gebruiken krijgt de dino snel een mooie textuur. Zet je zelfgemaakt kunstwerk in je kamer en zie 's nachts het skelet oplichten in het donker!
Affiliate
Wauw, wat een gave T-rex is onmiddellijk mijn reactie en die van 2
jongens, zodra wij de doos zien. Mogen wij die maken? Jazeker, dat is
juist de bedoeling!! Het kost uiteraard alleen even wat
voorbereidingstijd. Eerst moet het gips gemaakt, gegoten worden en goed
genoeg drogen. Daar ga ik gelijk mee aan de slag!
300 Gram gipspoeder (dit wordt ook geleverd!) op 150 ml water. Als je
het precies zo doet als op de doos aangegeven staat, kom je misschien
iets te kort of is jouw gips misschien iets te dik. Ik heb eerst 150 ml
water in een oude bak gedaan. Daarna heb ik het gipspoeder er in 1x aan
toegevoegd. Ik heb het even laten staan. Het gips vermengd zich dan al
vanzelf iets met het water. Vervolgens heb ik 25 ml water extra
toegevoegd, zodat ik een yoghurt-achtige substantie had. Deze is dun
genoeg om mee te gieten en op deze manier heb je ook precies genoeg om
de meegeleverde mal te vullen. De meegeleverde "kam" kun je gebruiken
wanneer je "gemorst" hebt om zodoende het gemorste gipsmengsel nog toe
te voegen in de vormpjes. Vervolgens pak je de mal heel voorzichtig op
en tik je er een paar keer mee op jouw ondergrond (aanrecht of tafel),
zodat er geen luchtbellen meer in het gegoten gips zitten. Nu laten
drogen en afwachten.
Wauw, wat komen de gipsvormen ná 3 uur droogtijd ontzettend mooi uit hun
mal. De mal is van heel dun plastic. Je zou bijna zeggen voor eenmalig
gebruik!! Maar ik wil de mal vaker gaan gebruiken. Er zijn hier nogal
wat dino-fans. Heel voorzichtig ga ik te werk. Stukje bij beetje zorg ik
er voor dat er wat lucht in de mal komt en duw ik de vormen er uit. De
mal is wel wat krom gebogen. Met voorzichtig wassen onder lauw
kraanwater buig ik het weer zo recht mogelijk.
Oh wat zijn de vormen goed uit hun mal gekomen. Wat is de T-rex mooi
gedetailleerd. Zo mooi, dat ik het ook zelf wil verven. Zelf verf ik
meestal met verf uit tubes. Nu ga ik de potjes testen.
Ik besluit om eerst de "omgevingsvlakken" zwart te verven. Dat gaat
super goed met deze verf. Ik heb wel een heel klein kwastje van mijzelf
gebruikt. Want dit is wel heel gedetailleerd. Wanneer dit klaar is,
komen de vormen van de T-rex en het skelet nog mooier naar voren.
Ik wil een groene T-rex. Dat betekent mengen. Er worden 6 kleuren
meegeleverd. Helaas geen groen. Blauw+geel=groen. Dat meng ik op een
stukje aluminiumfolie. Terwijl ik er mee bezig ben vraag ik mij af of ik
wel genoeg heb. Maar dat valt reuze mee. Ik hou over. De andere details
van de T-rex verf ik oranje. Rood+geel=oranje.
Terwijl dat mooi droogt (eigenlijk is het al bijna direct droog), begin
ik aan het verven van het skelet. Het gips absorbeert de verf goed. De
glow-in-the-dark-verf is wit. Rare gewaarwording. Je ziet bijna niet dat
je iets geverfd hebt met deze verf. Heel benieuwd of het werkt.
Als alles droog is, kan ik alles voorzichtig in elkaar lijmen. Ook
daarvoor is een potje lijm meegeleverd. De 3 kleine stukken van het
skelet kan ik hier prima mee lijmen. De 3 andere stukken zijn te zwaar
voor deze lijm.
's Avonds hou ik mijn T-rex even onder een goede felle lamp en dan snel
het licht uit. Wauw wat een supergaaf gezicht. Ik weet zeker dat "mijn"
dino-fans hiervan onder de indruk zullen zijn.
Ik heb nog los gipspoeder thuis en besluit gelijk om de mal nog een keer
te gaan vullen voor een 8-jarige jongen.
Deze jongen is heel erg blij met deze activiteit. Laaiend enthousiast,
met glunderende ogen en super geconcentreerd is hij bezig en verft hij
alles zelf. Wanneer hij aan de glow-in-the-dark-verf toe is, probeert
hij al een stukje met zijn handen donker te maken en is hij al helemaal
onder de indruk van het resultaat wat dat oplevert.
1. Doe 150 ml water eerst in een oude bak/schaal.
2. Voeg 300gr. gipspoeder toe. Laat eventjes staan zodat poeder en water
zichzelf mengen.
3. Roer dan met een lepel goed door. Voeg evt. iets water extra (25ml)
toe zodat er een yoghurtachtige substantie ontstaat.
4. Giet alles in de meegeleverde mal.
5. Gebruik eventueel de plastic "kam"' om het gemorste gipsmengsel ook
in de vorm te doen.
6. Til de mal voorzichtig op en tik een paar keer met de mal op de
ondergrond (aanrecht/tafel) zodat de luchtbellen uit het gipsmengsel
verdwijnen.
7. Laat het minimaal 3 uur drogen. Vooral de T-rex vorm heeft dit nodig!!!
8. Haal de vorpjes voorzichtig uit de mal. Neem er de tijd voor. Het
plastic is dun en kan snel uit vorm raken of scheuren.
9. Laat het nog 24 uur drogen voordat je het gaat schilderen.
10. Schilder eerst de "omgevingsvlakken", zodat de T-rex vormen beter
naar voren komen.
11. Schilder eerst de achterkant van de T-rex. Dan is dat goed droog
voordat jij er later het skelet op gaat lijmen.
12. Schilder dan de voorkant van de T-rex.
13. Schilder dan de skelet-delen met de glow-in-the-dark-verf.
14. Als alles geverfd is en droog is geworden, kan alles gelijmd worden.
15. Laat de gelijmde delen minimaal een half uur drogen.
16. Let heel goed op of de 3 grootste delen ook goed genoeg vastzitten.

Leuke creatieve ideetjes met dino's!
Nog meer leuke inspiratie met Dino's! Klik op de foto van je keuze en bekijk het in de webshop!
Affiliate

Ben jij ook graag creatief in de ruimste zin van het woord? Kom dan gezellig naar mijn facebookpagina: Crea met Kids en geef de pagina een LIKE! Klik op de link om er heen te gaan
Knutselen met Kinderen van 0-4 jaar.
of mail naar:
creametkids@ziggo.nl
Welkom bij Crea met Kids. Je kan mij vinden op diverse social media waar ik allerlei leuke creatieve dingen deel die je kan doen met kinderen. Volg je mij ook?