Pro-piet of anti-piet?
De laatste jaren gaat het toch helemaal mis? Wat een gedoe om zo'n KINDERfeest. Ben je pro- of anti-piet?
Nou, ik ben PRO piet! Vooral omdat in mijn kinderentijd de piet mijn grote held was. Van hem/haar kregen wij ten minste pepernoten. Terwijl Sinterklaas alleen maar rond hobbelde op zijn paard. 
Na wat ik zo weet zijn er verschillende verhalen over de afkomst van Zwarte Piet. We zullen het helaas nooit helemaal zeker weten. Denk ik? Wat ik weet van wat ik her en der heb opgevangen is dat de kledij van Zwarte Piet afstamt van de moorse pages. Oftewel zwarte dienders. Maar toch moet ik zeggen dat de Pieten het beter voor elkaar hebben dan ik. Ze hebben mooiere kledij en nog gouden oorringen ook. Oké, dat was even met een knipoog.
De kledij zou dus verwijzen naar slavernij. Maar nooit in de verhalen waar Zwarte Piet in voorkwam, werd hij afgebeeld als een slaaf. Niet de verhalen die ik ken ten minste. Maar juist meer als een kindervriend. Oké, hij zou dan de gene zijn die de stoute kinderen meeneemt in de zak, hij is ook de gene die de zak draagt. Maar hij is op mij nooit onvriendelijk overgekomen. 
Neem deze afbeelding. De Oostenrijkse variant (gewoon even gegoogled op Sinterklaas Oostenrijk en je krijgt dit soort taferelen).  De Oostenrijkse Sinterklaas met de krampussen. Ook traditie. En wij doen moeilijk over het voorbeeld wat wij geven aan onze kinderen? Hier krijg je toch nachtmerries van? Nederland een land die volgens mij het meest tolerant is wat betreft asielzoekers. Moeten wij dan moeilijk doen over donker gekleurde "knechten" van Sinterklaas?
Wie hebben we hier? Ja. Sint Nicolaas. Wacht eens even? Hij is bruin! Ja duh. Sinterklaas was bisschop van Myra. Waar ligt Myra? Turkije! Heb je ooit een van Turkse oorsprong blanke man gezien? Nee? Ik ook niet! Sint Nicolaas was waarschijnlijk een rasechte Turk, met de kleur die daarbij hoort. Hoe de legende zich naar Spanje heeft verplaatst, weet ik niet precies. Zal vast wel weer iets met de Spaanse overheersing over Nederland te maken hebben gehad.
Ook had ik een keer wat gelezen dat de knecht die Sinterklaas had, een geredde wees was. En die de Sint hielp uit dankbaarheid. 
Bron van de afbeelding: https://annpostma.wordpress.com/category/feest/page/2/
Waar gaan we met dit verhaal heen? Eerlijk gezegd geen idee. We zijn een land die zoveel tradities heeft. We zijn een klein land en wereld bekend om onze tulpen (ook oorspronkelijk afkomstig uit Turkije) en onze klompen en molens. Waarom zouden wij onze leuke, vrolijke en aardige Zwarte Piet aan de kanten doen? Wat krijgen wij ervoor terug? De Krampussen? Liever niet! Of zou het helpen als wij Sinterklaas ook in zijn originele kleur gaan laten verschijnen? Of moeten we de Piet nu maar eens eindelijk gaan ontdoen van zijn morenpakje? Maar wat doen we hem dan aan? 
En zijn wij uiteindelijk niet allemaal slaven? We ploeteren (bijna) allemaal onder een baas, onder een maatschappij. Wie van ons is nou vrij? De Zwarte Piet laat juist nog een stukje blijheid vrijheid zien. Ze delen, ze geven wat ze hebben, ze toveren een lach op het gezicht van kinderen! 
Ik was eigenlijk niet van plan om hieraan mee te doen. Maar mijn vriend deelde deze op Facebook. Sylvana wordt beetje als aanstichter gezien van de hele pietendiscussie. En dan is deze afbeelding wel geniaal! 
Kinderen hebben hoop en geloof. Sommige ouders vinden het gemeen om kinderen in zoiets te laten geloven om daarna hun gelood af te nemen. Maar is dat sowieso niet het geval met kinderen? Kinderen zien hun moeder als Wonder Woman en hun vader als Superman! Kinderen leven in een zorgeloze wereld, vol hoop! Sinterklaasfeest is voor ons volwassen een mogelijkheid om daar een beetje aan mee te doen. Even in een "fantasiewereld" kruipen. Even zorgeloos en hoopvol zijn. Een lach op de gezichtjes van kinderen toveren. Persoonlijk voor mij maakt het niet uit welke kleur Piet heeft. Maar het feit wil dat de kinderen op het moment ook nog niet beter weten dan dat Zwarte Piet, donker is. Het is een herkenningspunt, het is een deel van hun geloof. Wat blijft er van over als we het veranderen?
Persoonlijk doet mij een blanke in een pietenkostuum, erg denken aan hippies. Zijn zij de volgende die gepikeerd gaan lopen doen? Ik zeg, laten we lekker de traditie in ere houden! Laten we trots zijn dat wij vriendelijke pieten hebben en geen gemene monsters als krampus! We zijn toch een vredelievend volkje? 
Mocht iemand aanvullingen hebben op mijn verhaal. Dan hoor ik het graag! :) Ik sta overal voor open!
Sinterklaas. Wie kent hem niet? Sinterklaas en natuurlijk ZWARTE PIET! :)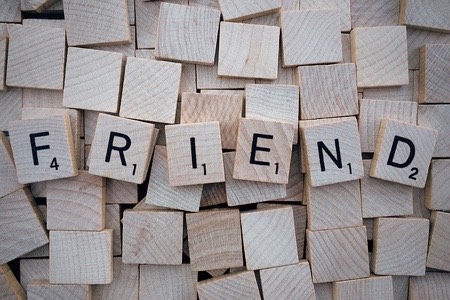 Beloon de maker en jezelf
Word gratis lid.