Looking for a nice and low budget gift? And you still have an empty jar with lid? Then of course you make yourself a trendy Deco pot. Nice for yourself or for someone else, and maybe also a good inspiration for Mother's Day?
The pot was a long time in use for fish food. Sometimes the pots are really too good to throw at the trash. You can always make something out of it. Don't you have that pot? Then think of eg. : canned jars, milk powder cans, coffee milk powder pot etc. You can give every pot a new "jacket". Is the lid too thin? Stick a cap on it and paint that. Looks different right away. You can also hang nice ribbons on a pot, or jute rope. In short, enough ideas for each his possibilities and wallet. And in the pot you can of course do a sweet errand, do a credit voucher to do something together, etc..
The cute Decopatch paper, polletjesband, tackytape etc. can all be found in the webshop of Trixx Creative . If you do, use the code: CREAKIDS then you will also receive a small gift with your order Click here for the website
What do you need?
- A jar with lid
- Decopatch paper
- Collall Decopatch glue plus brush
- Rhinestones /blinbling stones
- Pom band/TackyTape
- Collall Rhinestone glue
- Artificial flower
How to make it?
1. Clean the jar you want to use (label off etc..)
2. Cut decopatch paper into pieces
3. Stick the pieces of paper piece by piece with some glue (put the glue in a small cup, works easier)
4. Continue like this until your entire pot is lined. Release the screw edge of the pot
5. If necessary, you can paint or paste the lid, here a hole is made in the lid and a flower inserted
6. The lid edge is pasted with thick blue dots tape
7. Also cut out 2 loose pieces of ball tape and fluff out on the bottom
8. Attach these 2 pieces to the pot with tacky tape
9. Decorate the pot with bling bling and stick it on it with rhinestone glue
Here are some nice diy gifts!
Below nice tips for crafting with recycling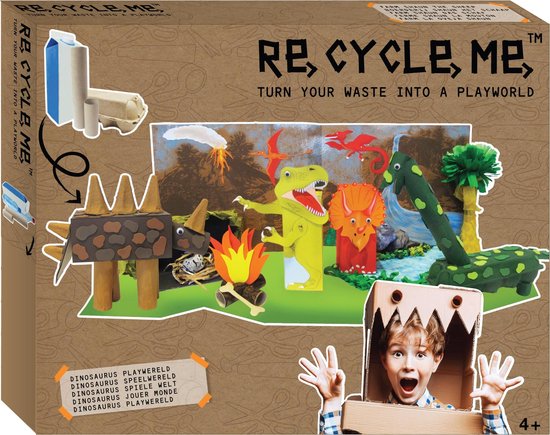 Re-Cycle-Me Playworld: dino`s
"Making a dinosaur from only recycled material. It can now! Fun and educational for children, to learn how to recycle products and give them a second life.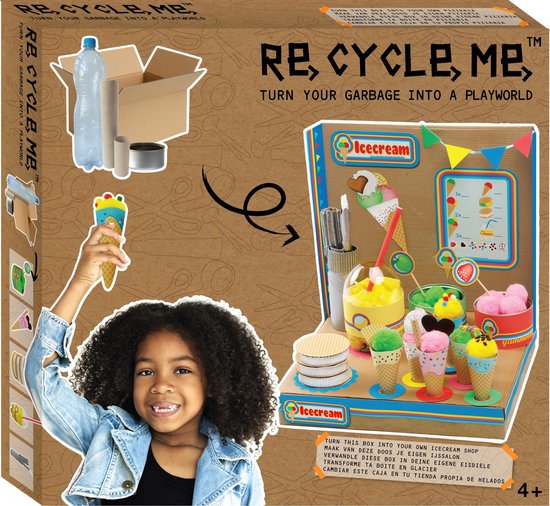 Re-Cycle-Me Playworld: Ice Window
"With this craft package from Re-Cycle-Me, children can craft their own ice cream stall from waste. After crafting, the children can also play for hours with their own made ice cream window. This craft package contains several components for crafting and even the packaging is used in the creation!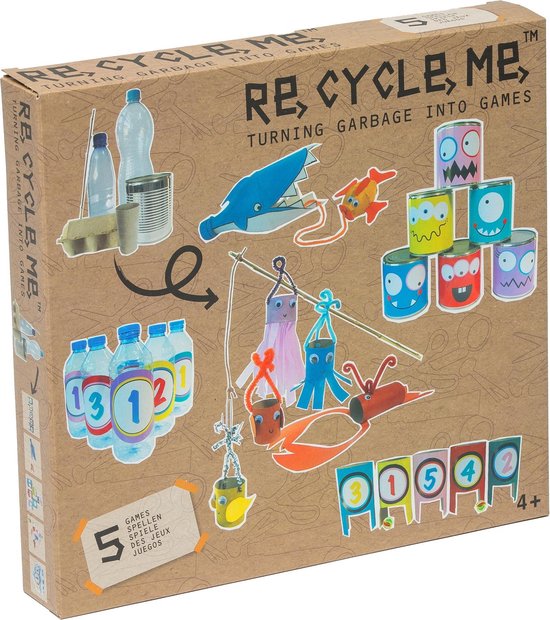 Recycleme Craft Pack Games
Re-Cycle-Me Games