A very nice picture book that I want to share with you is:The Dream House. The book is written byMary of Donkelaar. Illustrator isJan Braamhorst.The book is published by:The Four Winds.
This beautiful illustrated book takes you to a forest where there is a dilapidated cottage. Main characters Vos and Das both meet this house, and independently of each other have the same plans: redecorating the house. So it may happen that the house is being refurbished without these two animals knowing about each other. Who actually made the roof? And who did the walls? Then the question naturally comes to the end of the job "ride," who now has the rights to this refurbished cottage?
The book is written entirely in rhyme, which is easy to follow for children from 3 years. The beautifully drawn prints are nice and very beautiful to look at. To make the story live even more, I made a tinkering with it. For example, children can recreate the story with the main characters Fox and Badger. Then combine it with building a cottage that children can do together. This can be done with: lego, blocks, recycle materials, etc.
Click on the book to view it in the webshop
In the forest, Vos sees a dilapidated cottage. He thinks I'm gonna fix it. I'll make it a dream house! He's not gone yet or Das is coming. He also sees the house and thinks: if I fix this, it will be my dream home.
The next morning, Fox immediately begins repairing the walls. In the afternoon Das makes the roof.So it goes a few days: Fox comes morning jobs, Badger in the afternoon.But they do not know that about each other. Until the dream house is finished...
How will that end?
A cheerful job story in rhyme!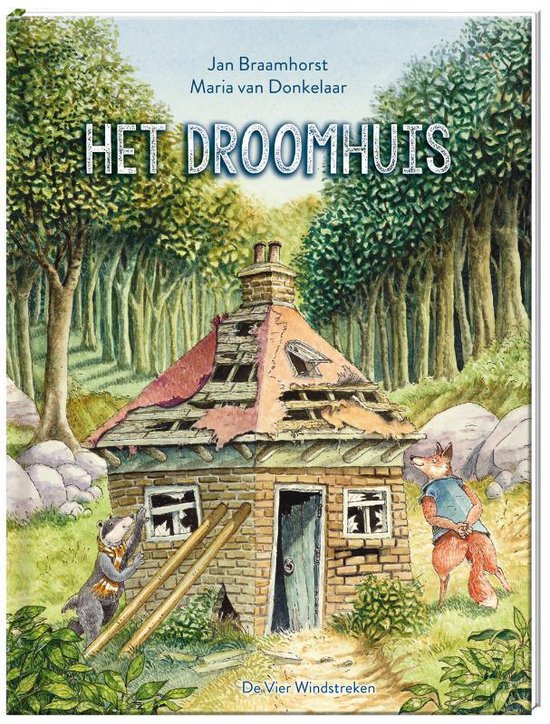 This template is made to create the main characters from the book.Save this template to a folder on your computer.You can print them out afterwards.
The figures have a outlined edge. Children can then possibly prick or cut this out.
What do you need?
- Template fox and tie
- Green craft paper
- 2 Wc/ kitchen rolls
- Crayola crayons
- Scissors
- Creall knutsellglue
How do you make it?
Print the template and color tie and fox in
2. Cut or puncture badger and fox
3. Stick the fox and tie on green craft paper
4. Cut or pierce the fox and tie
Color with crayons the toilet paper green
6. Stick your tie and fox against a toilet roll with knuckle glue

Also nice inspiration to craft a fox!
Creative inspiration to create a cottage in different ways.
Click on the photo of your choice and view it in the webshop!
Affiliate

Welcome to Crea with Kids. You can find me on various social media where I share all kinds of fun creative things that you can do with children. Are you following me too?