A super fun activity that children can do is easy to make yourself. It's based on the Caterpillar Never enough. The caterpillar that has to eat a lot to become a butterfly of course.Ineke van der Linde created this activity for guest parent care. Children can thread through a leaf a caterpillar of caps through it. Good for the motor skills and a fun way to do in combination with reading the book of Caterpillar Never. And the material used for it is all low budget and therefore good reuse!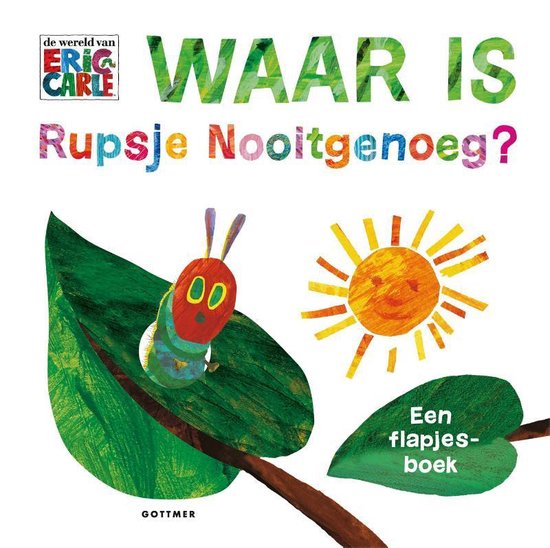 Do you want to get an idea of this cute caterpillar?
Click on the book!
Writer:Eric Carle
Publishing house:Gottmer
Ineke explains below how she made this:
- Draw a sheet from the book by Caterpillar Never! I used cardboard from boxes that contain milk packs in the store.
- Draw some holes in the sheet. To do this, use a number of caps as mold. Draw these over with a pencil. I used caps from Icetea bottles.
- Cut out the round holes.
- Put a few blobs of yellow paint and 2 kinds of green paint on the sheet and smear it!! This creates a nice fresh leaf.
- I colored the blue cap with green permanent marker something about it. Caterpillar Never exists in the book of several shades of green if you look closely.
- The blue cap is from a milk canister.
- With a puncture pin opposite each other, pierce holes in the caps. Stred them together with a string. In the red cap, pierce 2 extra holes for the antennae.
- The antennae are made of a piece of pipe cleaner.
- Nose and mouth are marked with sharpie marker.
- The eyes are stickers I colored.
Tip:Of course, it can also be done with smaller caps or beads.

For more tips on the theme check out this overview with all kinds of games and also a crochet pattern of Caterpillar Never!
Super beautiful and fun books by Caterpillar Never that constantly experiences a new adventure.
Click on the book of your choice and read more about it in the webshop!
Affiliate

Welcome to Crea with Kids. You can find me on various social media where I share all kinds of fun creative things that you can do with children. Are you following me, too?