I would like to share with you the picture book ofCoco Chanel. This book was written by:Maria Isabel Sanchez Vegara (Ana Albero) The publisher is:The Four Winds.
The book is part of the series"From small to great," with which children and adults discover the life stories of important women in world history. Each part shows how a little girl with a big dream grew up to a strong woman with grand ideas. Age indication from 6 years!
Who was Coco Chanel?
She is the designer in French fashion who has made it very far. Coco was different as a child. The nuns and the other kids at the convent where she lived wasn't exactly okay with that. She continued to follow her own path and turned out to be very handy with needle and thread. She started making hats. Simple but very elegant. This is where she started her first store. While dancing, Coco saw that many people could not move freely because of the corsets (difficult breathing) they were wearing. She thought of something on that. She designed a timeless simple black dress that is still popular. She developed more and more in fashion. Despite the opposition of many people. Women were given pants, which was very unusual at the time. And after opening many shops, she also developed her own perfume!
The well-known Coco Chanel No: 5
Collage with the help of photos from pixabay
Click on the book to view it in the webshop!
Coco Chanel was the woman of French fashion. As a seamstress, she freed women from their corsets, shortened skirts and gave a masculine touch to many clothes. Her simple style, comfortable and elegant, revolutionized the fashion world. Her clothing is therefore a symbol of the freedom of the modern woman.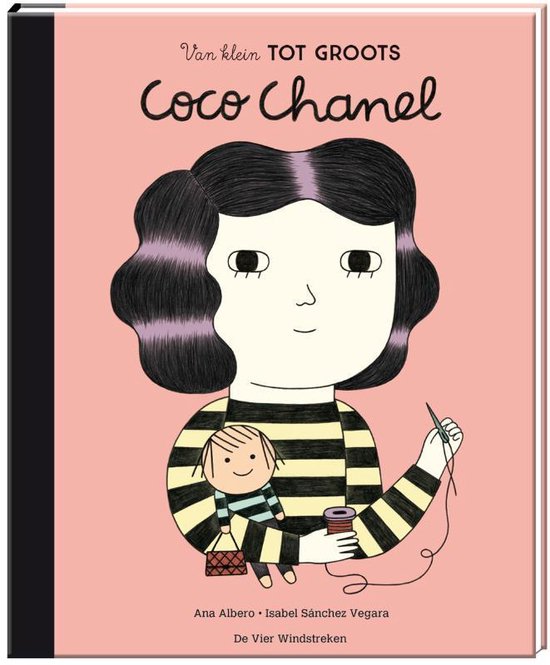 Save the template to a folder on your computer. From there you can print out the template!
I thought it would be nice to make a perfume craft with this book by Coco Chanel. I made a template for that. The idea is that children themselves sit on "the designer's chair". Choose your own color, pattern, motif for your perfume bottle. Think of your own label with the initials of yourself (as Coco Chanel does CC) The tinted perfume bottle also contains a kind of liquid that you can move around with your fingers. Of course, you can give it your own thread. You can also put this bottle on a box so it can stand. In short, be the designer/designer of your own perfume bottle!
What do you need:
- Template perfume bottle
- Colored cardboard - metallic design, etc.
- A4 Insert Cover
- Tape
- Glitter glue
- Scissors
- Pen
How do you make it?
1. Save and print the template
2. Cut out the template and pull it over to your chosen craft cardboard
3. Cut out the perfume bottle and also the inner part of the perfume bottle
4. Turn an insert cover (take a corner piece) into a perfume reservoir.
5. Cut out the size on the opening of your perfume bottle
6. Put glitter glue in different colors.
5. Attach the open sides of the cut-out sleeve with sturdy tape.
6. Stick the glitter glue filling cover to the back of your perfume bottle opening
7. Stick your perfume bottle on a white surface or stick it on a box with a view opening
Cut out the template perfume bottle label and pull it over to paper/cardboard of your choice
9. Give your label your own initials. Just like Coco Chanel, let the letters go mixed up.
I'm very curious about your perfume bottle designs!

Creative inspiration for books in the book series: "From small to great"
Below you can see the books from the series:"From small to great"
Each part shows how a little girl with a big dream grew up to a strong woman with grand ideas.
Click on the book of your choice and view it in the webshop!
Affiliate


Welcome to Crea with Kids. You can find me on various social media where I share all kinds of fun creative things that you can do with children. Are you following me, too?