Today experimented with dyeing techniques. With the help of paint, rainbow paint spatula, sponge rollers you can create the nicest paint work. Here you will find 2 detailed techniques to make an original butterfly in terms of colours. You will also learn how to fold the wings with a handy step-by-step plan. Read how it was made?
What do you need?
- Magic paint (collall)
- Rainbow Spatula
- Sponge Roller
- White cardboard (watercolor paper)
- Wooden clothespins
-Ruler
- Pencil
- Scissors
- Collall cuddle glue
- Wobble eyes
How to make it?
1. Draw squares of 10 by 10 cm. (4 pieces)
2. Put drops of paint on the paper on each square
3. Now go flat over the paint with the rainbow spatula and iron out the paint
4. Do this as many times as you think it is necessary and add. paint add
5. Now use 4 squares together again and apply drops of paint
6. Now go with a sponge roller pulling jobs in the paint, go in different directions and try the different rollers out!
7. When everything has dried, cut out the squares. Cut the extra pieces with color into antennae of the butterfly
8. From white paper (about 8 cm by 2), make a bodice for the butterfly. Round the corners with the scissors
9.Stick wobbly eyelets onto the white body
10. Fold the wings according to the step-by-step plan and glue them to the bodice with cuddle glue (press)
11. Also attach the antennae
12. Now stick the butterfly on a wooden clothespin and your butterfly is ready!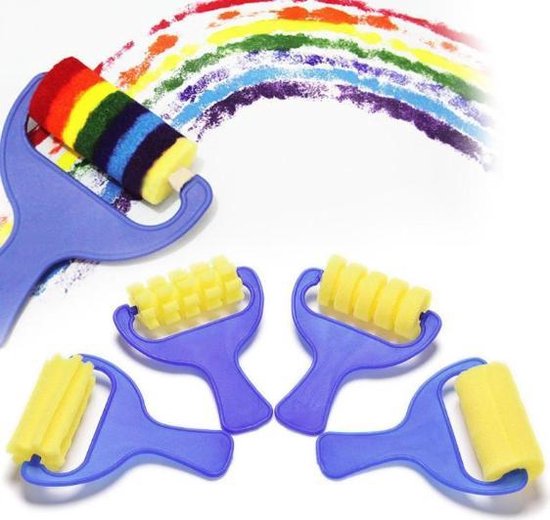 Click on the photo and order it in the webshop!
Nice paint rollers with a different pattern. Fun for your kids who like to be creative.
Suitable for children from 3 years.

Creative butterfly inspiration!
Below are all the materials used.
Click on the product of your choice and order it in the webshop!
Affiliate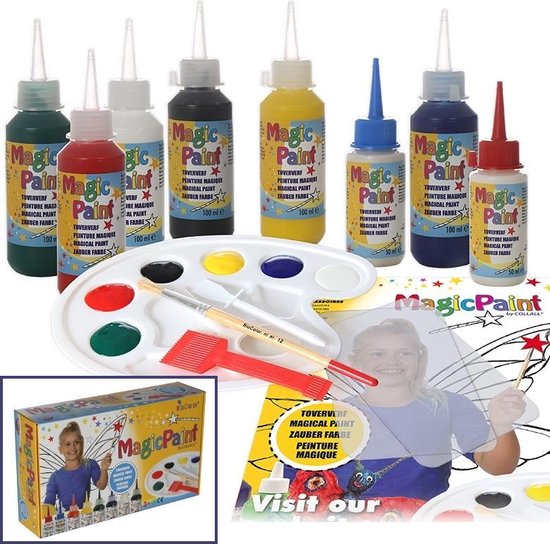 Collall Biocolor Magic Paint Set
Hours of painting fun for children with this magic paint, made in Groningen 14-piece set with a very special paint. You can paint, stamping, make stickers with it, it is suitable for wood, paper, glass plastic, textile & face. Particularly suitable for children from 3 to 9 years. The complete basic set with the following content. 6x bottle 100ml Biocolor (red, yellow, green, blue, black, white) 1 x bottle 50 ml Textile medium., rainbow paint spatula, 2 x technique plate, 2 x stamp balloon, and a use curve with all fun painting techniques and ideas. Gluten free!